Unless you work in an industry that uses hydraulic-powered machinery, the chances are you'll have little awareness of what a hydraulic hose does (or even that such a thing exists). The truth is hydraulic hoses are a key component in helping many of the UK and Ireland's businesses to deliver their services, so they're a vital cog that millions of people rely on each day.
What is hydraulic hose?
A hydraulic hose is a specialist type of hose that you'll find in many commercial and industrial settings. Hydraulic hoses are typically constructed from flexible rubber or wire, and feature a series of layers to give the hose its strength and durability. These layers comprise of an inner tube, a reinforced layer and an outer layer.
What is the purpose of hydraulic hose?
Just like a hose you might use to water your garden, the purpose of a hydraulic hose is to allow fluid to flow from one component to another – in this case hydraulic fluid. The hose is the conduit that ensures the fluid is able to travel unimpeded and it's a vital part of keeping hydraulics systems moving. In fact, if a hydraulic hose was to fail it can bring entire production lines to a standstill and take vital machinery offline until the hose can be replaced.
Who uses hydraulic hoses?
Hydraulic hoses are used in a variety of industries from construction and manufacturing to logistics, agriculture, pharmaceuticals, rail and automotive (to name just a few). You'll find hydraulic hoses in factory production lines, fleet vehicles and plant (such as that used in the construction sector) and for commercial farming. To find out more about who uses hydraulic hoses visit our Market Sectors page.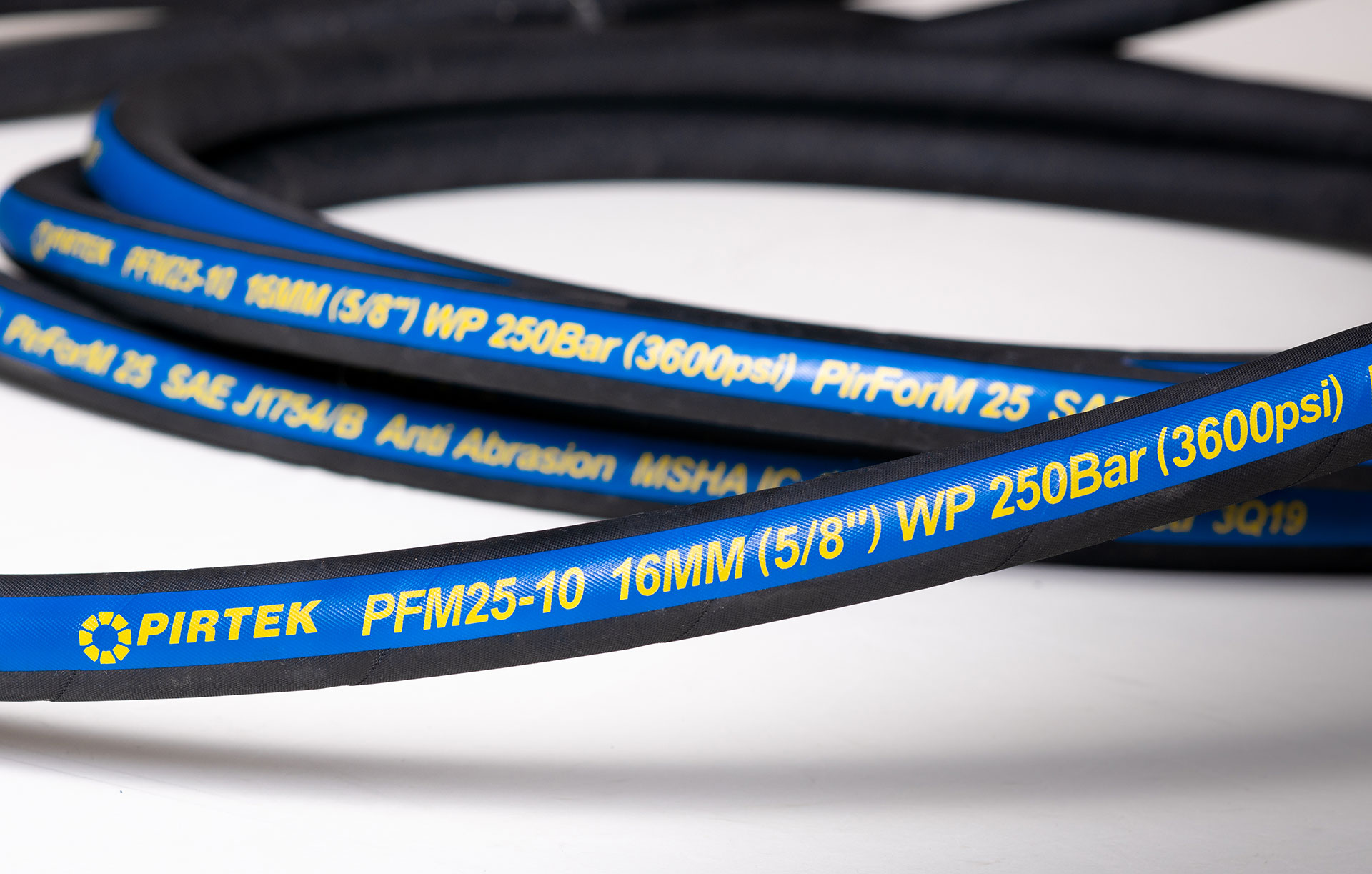 What are the different types of hydraulic hose?
Hydraulic hoses generally fall into two categories: those that comply with SAE standards (the Society of Automotive Engineers) and EN standard hydraulic hoses – the European norm. SAE hydraulics hoses are generally regarded as the industry benchmark and the most widely used within the UK. 16 different types of hose fall within the SAE remit, and each one needs to adhere to strict dimensions and performance characteristics. Here are the main categories:
Braided hose
:
Designed to power general industrial applications, this is a high-pressure hose that comes in configurations of one, two or three braided steel wires. It's generally used with petroleum or water-based fluids and operates in temperatures ranging from -40°C to 100°C.
Multi-spiral hose:
This type of hose is very flexible and its internal configuration makes it particularly useful in heavy-construction and high pulse applications. It is normally used to transfer mineral and hydraulic oils or emulsions of water and oil, which makes it particularly useful for constructions and civil engineering, mining and quarrying, oil industries and agriculture – among others.
Low-Pressure Hose:
This kind of hose is textile-braided, which makes it very flexible but not suitable for higher pressures. It's commonly used in lighter applications such as anti-static delivery, air, lube or return lines.
Stainless Steel Wire-Braided Hose:
These heavy-duty hoses, braided by single or double stainless steel wire, are used in aggressive applications such as the transfer of chemical substances. They are very durable and can withstand extreme temperature and pressure conditions, including in a vacuum.
Thermoplastic Hydraulic Hose:
They're made of two layers of thermoplastic material separated by a middle reinforcement layer, made of wire or synthetic fibers. The fact that they're capable of operating at very low temperatures and that they are particularly resistant to abrasion makes them popular in hydraulic-powered lift equipment, as well as lubrication lines where a small outside diameter is needed.
How do I choose the right kind of hydraulic hose?
Not all hydraulic hoses are the same so when looking for a new or replacement hydraulic hose it's important to consult with a specialist who can source or design the most appropriate hose for your needs.
Variables that influence the type of hydraulic hose you need include:
The type of fluid passing through the hose

The operating conditions the hose will be subjected to (pressure/temperature)

Hose size (diameters and length)

Hose flexibility and durability

Ends and couplings (what the hose will be attached to)
Hybrid hose: isobaric constant working pressure
While 100R1AT 1 Wire hose – with varying working pressures from 225Bar for the ¼" diameter to 88BAR for 1" – is widely adopted across the industry, Pirtek's high-quality Hybrid hose provides the added benefit of constant working pressure across the entire range, from ¼" to 1" in diameter. The Pirtek range covers PFM25 (250BAR constant working pressure), PFM35(350BAR), PFM35SX (350BAR spiral) and PFM42SX (420BAR spiral). This allows our Mobile Service Units to work on a wide array of applications and ensure they can tackle more than 95% of the issues on their first visit.
Where can I buy hydraulic hose?
Speak to us on 1800 74 78 35, drop in to one of our nationwide Pirtek centres or explore our online catalogue. We're the UK and Ireland's largest network of hydraulic hose professionals, with thousands of hydraulics components in stock and a 24/7 emergency call out service for hydraulic hose emergencies.