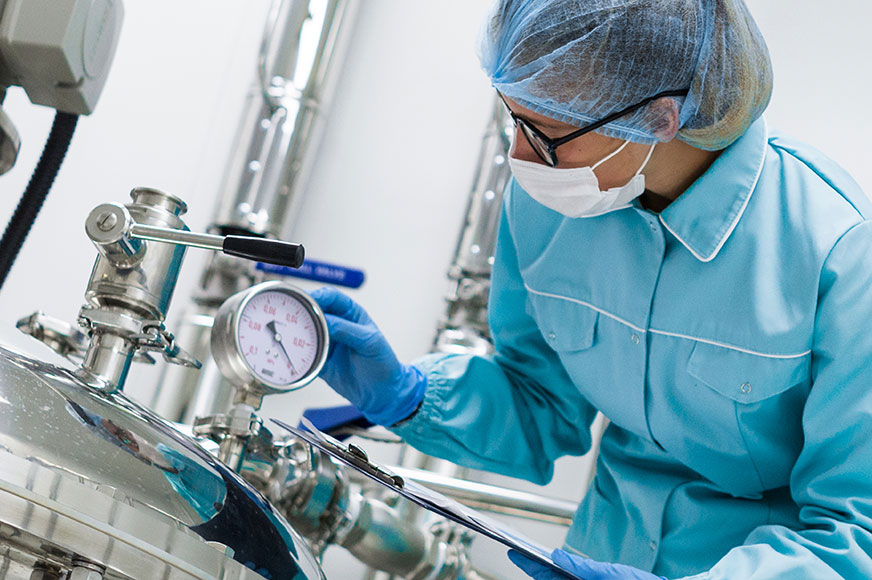 Keeping pharmaceuticals moving
The sensitive nature of pharmaceutical manufacturing means it's essential that all hoses meet with industry standards. Pirtek hoses are manufactured to meet the rigorous expectations of the pharmaceutical industry. Pirtek have a wealth of knowledge that will ensure a solution for any hose requirements.
The most resistant against chemicals
Our pharmaceutical hoses are manufactured from industry leading materials making them the most versatile and hardwearing available on the market. Ideal for corrosive chemical and high purity applications, each hose can be built with hygienic end terminations including Triclover, RJT, DIN and SMS among others.
Experts in pharmaceuticals hydraulics
All hose liners meet industry standards, including FDA and USP Class VI.
Full range of industry standard hygienic fittings available in 316 stainless steel and high nickel alloy.
Full range of hose coverings available, including Stainless steel, Silicone, Polypropylene and EPDM.
Hoses 100% hydrostatically tested and certified with individual part numbers for traceability.
Additional services include full material/documentation packs, surface finishes to 0.1Ra, hose cleaning, drying, sealing and certifying.
Martin Hood
Marwell Zoological Park
50° 59′ 27.40″ N
1° 16′ 46.54″ W
"Pirtek offered the best solution and completed the job in no time at all with a minimum of disruption. They were a highly professional and efficient team."
Steve Bishop
Syd Bishop & Sons
51° 22′ 58.37″ N
0° 8′ 7.64″ E
"As a national company we find ourselves working from anywhere. It's reassuring to know that wherever we go, the same reliable Pirtek service is just a phone call away."
Byron Bucket
Ground Fleet Support
50° 30′ 16,24″ N
2° 41′ 47.64″ N
"They provide excellent service and are always there for the odd emergency. I can cope with the demands of the airport because I have Pirtek when I need help."
Do you have any questions or would you like to know more?
Fill up the form and one of our experts will be able to assist.