A hydraulic technician is a person responsible for the installation, servicing, maintenance and troubleshooting of hydraulic-powered systems and machinery. In this blog, we look in more detail at the role a technician plays in the industry and the main responsibilities that fall into their remit.
What is a hydraulic engineer?
A hydraulic technician's day-to-day role can be incredibly varied. Working hours are based on the nature of the business the employee works for, for example, emergency breakdown companies tend to require a flexible approach to working hours to provide an "out of hours" service to customers.
For a Pirtek hydraulic technician, a typical day could involve visiting a client on-site to conduct a non-urgent hose replacement or testing out the integrity of a business' hydraulic machinery as part of a regular maintenance and servicing contract. These appointments may be timed outside of business hours to minimise operational downtime for the client.
Another vital aspect of a hydraulic technician's role involves responding to emergency call-outs and hydraulic hose breakdowns. These calls can come at any time and for that reason a hydraulic engineer will need to be available to respond to emergencies in real time. This means that, in reality, anyone working as a hydraulic technician in a none in-house role, will be required to work outside of a standard working day.
When a hydraulic hose fails, it can take entire machines out of action, halting production lines and causing costly delays. A hydraulic engineer needs to be able to replace a damaged hose with a new one, in order to get a business back online as quickly as possible. For many customers, a hydraulic technician is an emergency service that the business cannot afford to be without.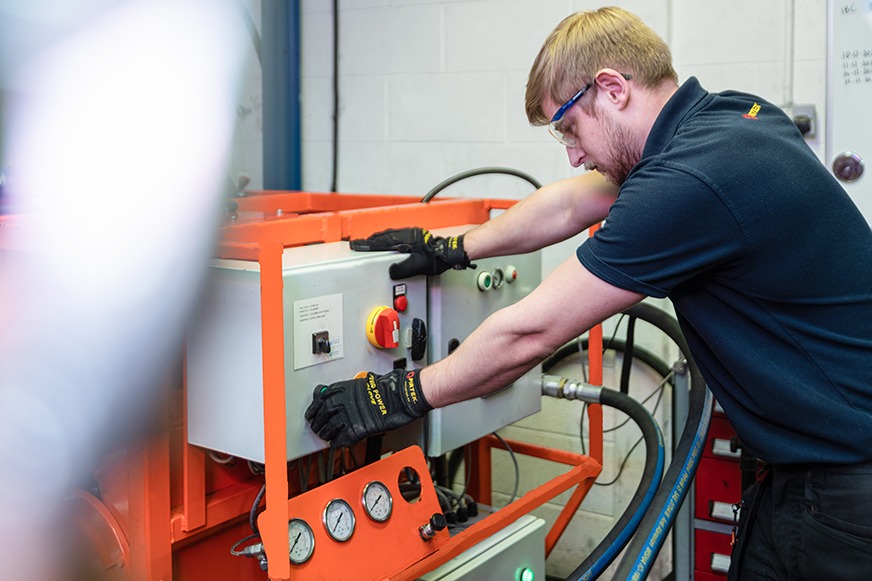 What skills are needed?
Practical skills are required, but it also demands some other integral skills such as advanced technical and technological expertise.
First and foremost, anyone wishing to become a hydraulic technician will need to have cultivated an understanding of hydraulic powered systems through an official accreditation or training programme.
The skillset required includes the ability to:
Decipher hydraulic diagrams/schematics, as these are used routinely to assemble components and troubleshoot system issues.
Accurately interpret readings from meters, temperature gauges and pressure gauges
Fit/replace hydraulic components as required.
These requirements all have to be carried out in a safe manner with adherence to customer health and safety requirements as well as the health and safety requirements of the hydraulic technician's own company.
Do you need any formal education to be a hydraulic engineer?
Yes. It is a highly-specialised field which requires formal training in order to qualify as a hydraulic technician. Together with GCSEs in Maths, Science and IT, a degree in a subject such as engineering or industrial equipment technologies provides a great foundation to become a hydraulic specialist although it is not a specific requirement to have a degree of this nature.
Pirtek's training programmes are highly regarded in the industry and are a great foundation on which all of our technicians can build. If you're considering a career as a hydraulic technician with us, take a look at our Training Courses page for more details of the qualifications and official training we offer.